The Plaza Deck Assembly - Hydrotech's open joint architectural paver assembly, with a single-source warranty.
Ideal for roof terraces, vegetative roofs and plazas, The Plaza Deck Assembly begins at the substrate with Hydrotech's premier waterproofing membrane, Monolithic Membrane 6125®, and carries through to the overburden of the architectural pavers. Hydrotech's architectural pavers offer high compressive strength, low moisture absorption, and a wide variety of colors and textures.
Benefits
Unlike sand or mortar setting bed installations, the architectural pavers are installed in an open joint assembly, supported at the four corners on spacer tabs or pedestals. This method of installation provides many distinct advantages...
Open Joint System - open joints facilitate the flow of water below the paver surface to concealed drains, while also eliminating ponding water and trapped moisture.
Access to Substructure - drains and all assembly components are easily accessible. If the need should arise, pavers can simply be lifted and reset in place so maintenance and future alterations are easily accomplished.
Installation Flexibility - pavers are set directly on spacer tabs or adjustable pedestals to an established grade and even leveled where a sloped deck exists, a simple, durable solution.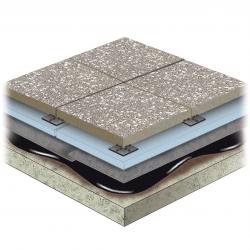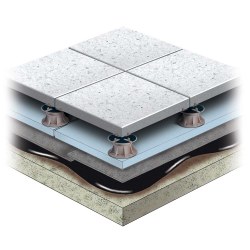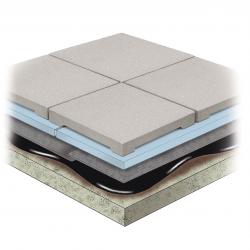 Single Source Warranty
The Plaza Deck Assembly warranty provides the owner with the enduring coverage provided by the assembly itself – all from the company that has set the standard of excellence in roofing and waterproofing for decades. This is a warranty only Hydrotech can offer and peace of mind only Hydrotech can give. We cover each and every component provided – so the burden of performance is ours..
That warranty includes:
Watertightness of membrane
Thermal retention of the insulation
Performance of the pavers
Removal and replacement of overburden if a warranted repair to the membrane is needed 
Please contact Hydrotech for specific warranty terms